Episodes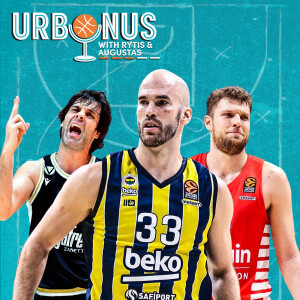 Monday Nov 28, 2022
Monday Nov 28, 2022
BasketNews' Donatas Urbonas, Rytis Vysniauskas, and Augustas Suliauskas explain rare Fenerbahce start, discuss Ettore Messina's hidden messages, and recalls heated moments that involved Milos Teodosic and Nicolo Melli.
Topics:
Ataman on BN+ (0:00);
Fun facts behind rare Rytis milestone (2:58);
Reasons behind Fenerbahce's record (9:27)
Explaining crazy Fener's numbers (14:58);
Vezenkov doing Klay Thompson (24:47);
Recalling Chus Mateo rumors (28:10);
Why Rytis almost fall asleep during Real vs. Partizan (32:03);
Panathinaikos run: nothing, something, or everything? (36:13);
Potential Pangos replacement & hope for Milan (43:11)
Hidden Messina message (49:55);
What happened to Teodosic and Melli (58:13);
The game of the week (1:02:55).